Grand National XXXIV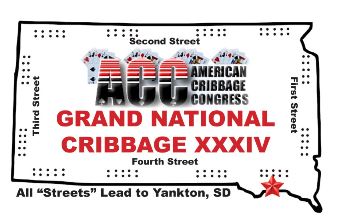 The 2015 Annual Grand National Tournament will be held from September 17th - 20th, 2015 in Yankton, South Dakota.
The Yankton Cribbage Club # 397 is excited to host the 34th annual American Cribbage Congress Grand National Tournament September 17-20, 2015 here in Yankton, SD. All the activities will be held at the Best Western Kelly Inn in Yankton, 1607 East Highway 50 at the east edge of town.
Don Thienel of Omaha, NE is directing the Cornhusker Cribbage Classic September 15-17, and his correct phone number is 402-660-6517. (The phone number on the Grand National flyer is incorrect).
The Best Western Kelly Inn has 121 guest rooms…and we have every one blocked off for the tournament. UPDATE: As of 6-10-15, we have sold out each room at the Kelly Inn.
There is still some lodging available in Yankton, SD during the Grand National. There are rooms at the Travelodge, which is right next door to the Kelly Inn and the cribbage tournament. There are also motel units available at the Lewis & Clark Resort, which is right on the lake about five miles west of Yankton. For either location, please call as soon as possible. (They are both very reasonably priced).
Travelodge 605-665-6510
Lewis & Clark Resort 605-665-2680
Don't miss out on an opportunity to be included in the official Awards Banquet program for the Grand National XXXIV. We would appreciate your advertisement in the Awards Banquet program, and there will be 500 printed for the tournament.
| | | |
| --- | --- | --- |
| Full page ad | 5 X 8 | $100.00 |
| Half page ad | 5 X 4 | $60.00 |
| Quarter page ad | 2 ˝ X 4 | $35.00 |
The ads should be done in a PDF file if possible and e-mailed to:
sports@kynt1450.com with a deadline by August 25, 2015.
Checks for the ads should be make out to: ACC GN34 and mailed to:
Scott Kooistra

100 West 17th Street

Yankton, SD 57078
**Please remember, there is an entry postmark deadline of September 5, 2015 so please mail your entry and check as soon as possible. **
Thanks to our major sponsors for taking care of many expenses related to the Grand National:
Yankton Convention and Visitors Bureau
Budweiser/Bud Light
South Dakota Lottery
And a big THANKS to Richard Frost for his efforts in selling raffle tickets which will allow the Grand National payback to be over 100% with many extra prizes and amenities!!
Please consider attending the Cornhusker Cribbage Classic in Omaha, NE right before the Grand National September 15-17, 2015.
For more information and to print off an entry blank which includes both tournaments, please go to www.yanktoncribbage.com
Thanks,
Scott Kooistra
100 West 17th Street
Yankton, SD 57078
605-661-7081