Grand National XXXV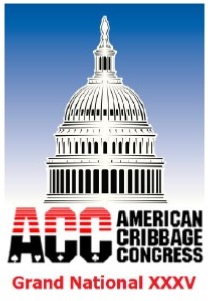 The American Cribbage Congress Grand National XXXV will be held October 7 - 9, 2016 in North Bethesda, MD at the North Marriott Hotel.
Please join us for a fun filled weekend along with the annual ACC Red White & Blue Awards Banquet. The Marriott is offering rooms for $99. Please call as soon as possible at (301) 822 - 9200 and mention the cribbage rate or register online at: https://resweb.passkey.com/go/b4e96c2e.
Festivities begin with a midweek tournament, The U. S. Capitol, on October 5 – 6.
The White House Main Tournament will be held - Saturday, October 8, 2016. Entry Deadline is October 1, 2016.
Complete tournament information can be found at http://gnxxxv.wix.com/gnxxxv.