♠ Life Wins ♦ All Americans ♣ Rookie of the Year ♥ Record Holders ♠ Hall Of Fame
G. Douglas Anderson
Halifax, NS
1903 - 1977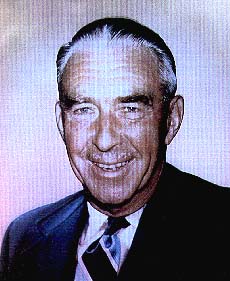 G. Douglas Anderson was born in Lunenburg, Nova Scotia, Canada in the year 1903.
After graduating from Ottawa Collegiate, Acadia University and the Nova Scotia Technical College, he was a student engineer with Westinghouse Co. Ltd. He later joined the Nova Scotia Light and Power Co. Ltd. in September 1928 as an electrical engineer.
During World War II he headed a special division of the Nova Scotia Light and Power Co. set up to degauss merchant and naval ships for which he was awarded an OBE in the King's Honour List in 1944.
He was very active in community affairs, welfare organizations and conservative groups.
In 1971 he wrote "All About Cribbage", and at that time this book was recognized worldwide as the official reference book on the game.
He was appointed chief judge at the National Open cribbage championships in Raleigh, NC in the formation years of this tournament.
Douglas was elected to the Hall of Fame in 1985.